Weather station with many functions for weather experts
Includes radio-controlled clock with integrated alarm, calendar, weather forecast, and much more
What will the weather be like today? Rainy, bitterly cold, or maybe even sunny? Every day you ask yourself this question. A glance at the display of our 'Black Line Plus' weather station will tell you what today's weather has in store. But that's not all: As well as giving you the weather forecast, the weather station has an alarm function. So if you have this station in your bedroom, you will be able to check the outdoor temperature on the display when you get up, and can decide which outfit to wear.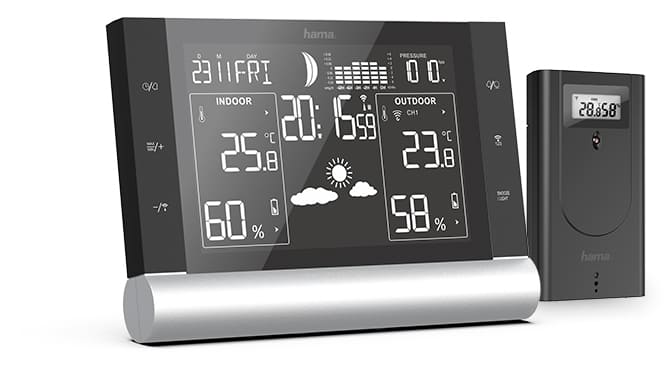 The set consists of an outdoor sensor and a base station. A different image appears on the weather station depending on the weather conditions: There are weather symbols for sunny, slightly cloudy, cloudy, rainy, heavy rain, light snow or heavy snow. In addition, you can display a weather trend for the next few days.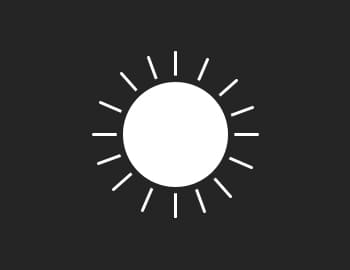 Sunny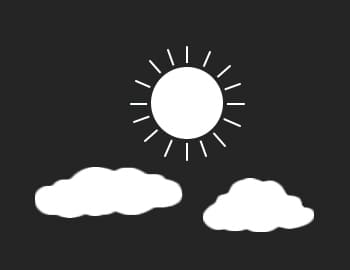 Slightly cloudy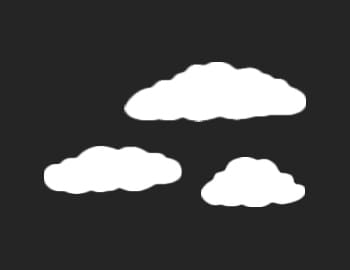 Cloudy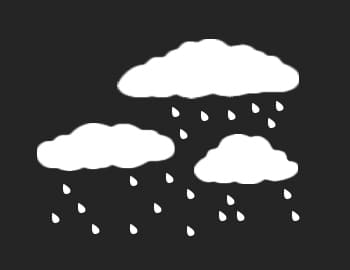 Rainy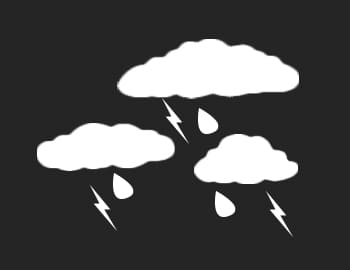 Heavy rain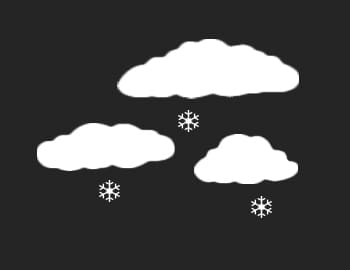 Light snow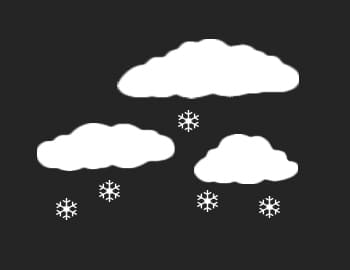 Heavy snow
As well as displaying the indoor and outdoor temperature, the weather station provides information about humidity. So don't let yourself be caught out by the weather.
The weather station runs on batteries
or can be connected to the mains
Our 'Black Line Plus' weather station can be operated very easily with batteries, which are included in the delivery. This is very practical, as there is often a shortage of sockets in the home. Or, if you prefer, you can connect the weather station to the mains using the supplied power supply unit.
DCF radio-controlled clock:
accurate to the second
Is your clock running fast or slow and no longer showing the correct time? Have you forgotten to change to summer time again? Time for our 'Black Line Plus' weather station! It receives the time from the world's most accurate clock – the atomic clock; the date is received via the DCF signal. So you no longer have to remember to change from summer to winter time – it happens automatically.
Everyone at their own time
Integrated radio-controlled alarm clock with various alarm times
With our weather station, having two alarm clocks in the bedroom is completely unnecessary, as you can set two alarm times. Each partner is woken at the set time so that they can get to work, arrive for their doctor's appointment, etc., on time and without getting stressed. This quickly frees up space on your bedside table – for a whole pile of bedtime reads, for instance. Of course, our weather station also has its uses if you live alone. Simply use the two alarm times for a pleasurable 15-minute snooze.
Perfect view from any viewing angle
High-quality display with VA technology
Thanks to the digital VA display, the weather, your room climate and the time are always perfectly in view. This special display technology enables a perfect view from any angle. Furthermore, there are three selectable brightness levels for even better readability.
For early risers and morning grouches
The right alarm for every sleep rhythm
If, on the other hand, dozing for the usual ten minutes with the snooze button is sufficient, you can of course also use this function on the radio-controlled alarm clock. Simply press the Snooze/Light button – after five minutes, you will be woken from your peaceful snooze. If, after three minutes, you already feel ready to face the day, you can press any button (except for the Snooze/Light button) on the alarm clock; this will stop the snooze time or the alarm.
For a good sleep
weather station with thermometer
Our weather station doesn't end with the time and various alarm settings. Many factors play a part in healthy sleep, such as the right temperature in the bedroom, for example. Sleep is restful if the room temperature is between 16°C and 18°C. In addition to the most accurate time in the world, you can also see the indoor temperature at a glance (which can also be switched from Celsius to Fahrenheit). Before going to sleep, you can therefore ventilate your bedroom again for a boost of freshness, or heat it to a comfortable temperature.
For a healthy room climate:
weather station with hygrometer
Air humidity is also important for healthy, restful sleep. It should be between 60 and 80 percent. If air is too dry – due to central heating, for example – we wake up with an itchy nose and a sore throat. If, on the other hand, there is too much moisture in the air, our sleep is often accompanied by headaches, as is familiar from sultry summer nights. The measured humidity level is shown on the alarm clock display, allowing you to control the humidity in your bedrooms – through ventilation, heating or air humidifiers, for example. Not only will you get a better night's sleep, but your home will also benefit, as you can easily avoid mould in this way. In addition, you can see the humidity level outside.
Weather station with mould measuring station
Would you like to be sure there is no mould in your home? The weather station with mould detection function monitors the room climate and warns you if there is a risk of mould. The base station evaluates the measured values and assesses the risk of mould on a four-level scale. You can then respond to this risk by ventilating and heating your room sufficiently. In addition, the station calculates the dew point from the relative humidity and temperature. If the temperature falls below this point, excess moisture in the air condenses. Water droplets form, which can cause staining or mould.
Know what the weather will be like in advance:
weather station with barometer
Would you like to know what the weather will be like a few days in advance? If so, this weather station is the right choice. The integrated barometer is used to measure atmospheric pressure. These measured values enable you to predict the weather conditions over the news few days. A slow but steady rise in air pressure suggests a fundamental, continual improvement in the weather. A slow decrease in air pressure normally indicates the end of a fair weather period. With this weather station, you always know precisely how the weather will develop and what you should wear for your Sunday walk.
Heat index
In summer, it is often sultry and the weather can feel hotter than it actually is. The reason for this is the relationship between humidity and temperature. The weather station calculates the heat index, a unit of temperature that specifies the 'feels like' temperature in addition to the measured temperature. If the reading on the thermometer rises above 26.7°C in summer, the weather station additionally displays the 'feels like' temperature. You can then take steps to protect yourself and prevent health problems caused by the heat.
Frost alarm
As soon as the outdoor temperature is between +1°C and -1°C, a snowflake symbol begins to flash, to warn you of frost. If the temperature falls below -1.1°C, the symbol is constantly lit. In spring, in particular, you can then react quickly by bringing your small plants inside.
Moon phases
Will there be a full moon or half moon tonight? If you would like to live your life by the lunar calendar, then our 'Black Line Plus' weather station is perfect for you. The base station displays the moon phase by day using symbols – for the perfect time to cut your hair or plant seeds.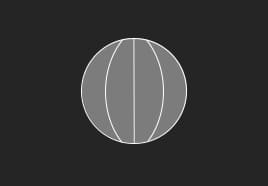 New moon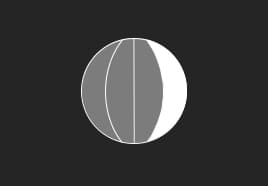 Increasing crescent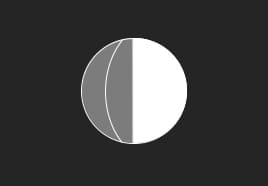 Crescent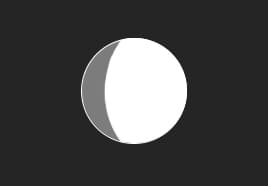 Increasing full moon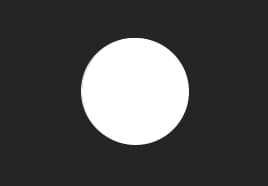 Full moon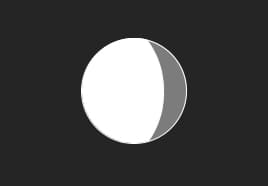 Decreasing full moon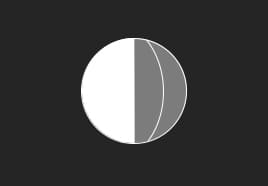 Crescent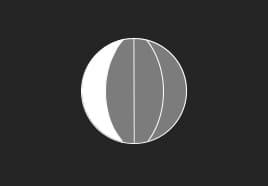 Decreasing crescent
Design meets functionality
This all-rounder not only offers many functions, but is also a real eye-catcher for your bedroom, kitchen or hallway. The 'Black Line Plus' stands firmly thanks to its integrated base. You can use the weather station in this way, or you can easily mount it on a wall. It fits snuggly and discreetly in the living space.