Monitor mounts:
The easy way to a more ergonomic workstation
A tense neck, back twinges, tight shoulders and, to cap it all, a terrible headache – if you experience these symptoms during and after office work, then it's time to think about ergonomic workstation design. Ergonomics in the office begins with sitting ergonomically at your desk and on your office chair, and ends with positioning your equipment, such as the monitor, keyboard and mouse. The workstation must adapt to you, not the other way round – for example, with our full-motion monitor mount for three monitors. A monitor mount allows you to place your screen in the exact position that is comfortable for you and that is neck- and back-friendly. Quite simply, an ergonomic retrofit!
You determine the position:
Full-motion monitor arm
Overstretched neck or turtle neck – the effect of sitting at a screen that is not set correctly. Only when it's set at the ergonomically correct height is your neck relaxed at the workstation. Our monitor holder is continuously height adjustable up to 40 cm, ensuring a relaxed neck for all body heights. Your neck is relaxed if you are sitting upright and your glance falls slightly towards the horizon: The cervical spine is then straight; looking downwards is also more comfortable for the eyes. If you work with several screens, the triple monitor mount provides the best support for an ergonomic viewing angle on all monitors. The swivel arm can be moved up to 180 degrees – for the best perspective in any position, and is also useful when you want to show something to your colleague at the next desk.
Often you have to view analyses in Excel lists from up close: Here, too, the monitor arm should adapt to your position. If you're a stickler for accuracy when it comes to figures, rather than bending forwards, you simply extend the screen arm out to up to 64 cm – your back will thank you.
In addition, you can tilt the screen by +/-25 degrees: When tilted backwards, the monitor is parallel to your downward glance – that's precisely how the screen tilt should be set. If you work with special programs or graphics, you can use the vertical or horizontal format of the monitor arm. With this body posture, you will not only be more comfortable when working, but will also be more motivated.
No drilling or screws:
Straightforward desk mounting
Adding ergonomics to your desk couldn't be simpler than with this screen mount. The monitor stand is suitable for all desktops up to 8.8 cm thick. Secure the clamp mount to the desk, then attach the VESA plate to the monitor and hang both in the mount. Thanks to the VESA adapter plate, you don't have to hold and mount the screen at the same time.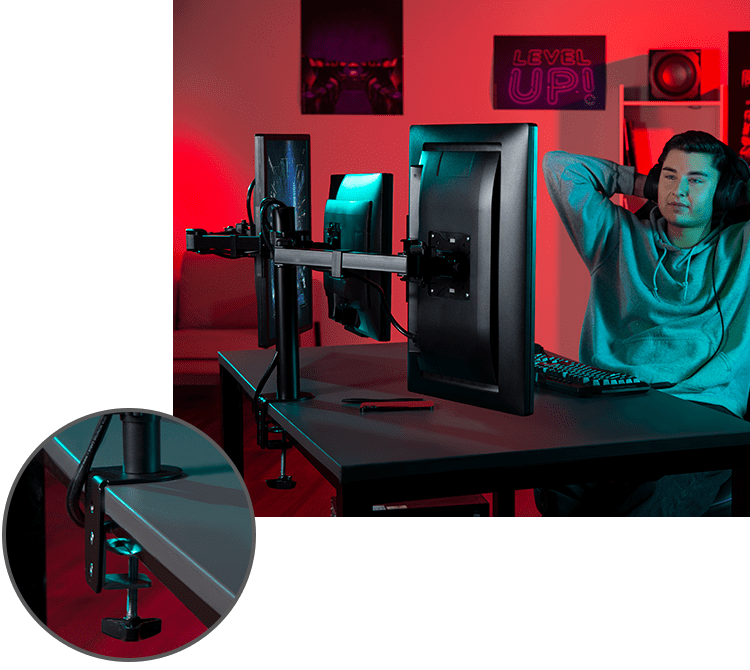 A tidy workstation arrangement
A positive side effect of the monitor mount is that you create space and order on your desk. The monitors no longer stand on your desk and you can use the space beneath the screens – for example, for pens and a note pad, which you then have ready to hand without them getting in the way. The integrated cable manager also helps give a tidy appearance: The monitor cable is routed tidily behind the monitor. This kind of cable guide also provides strain relief: It protects against cable breakage and spares you the cost of replacement cables.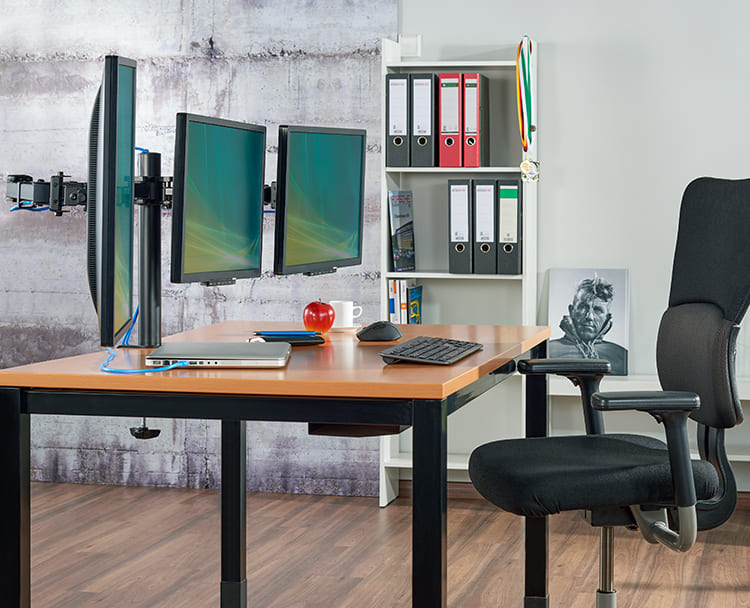 Ergonomic office equipment for the most common screens
All screens with a screen diagonal of 33–69 cm (13–27 inches) and a VESA standard of 75x75 and 100x100 can be attached to the monitor stand – each arm holds a maximum load of 7 kilogrammes.
Ergonomics and safety: five-year guarantee
You benefit from high product quality, as we test our monitor mounts in comprehensive load, stability and function tests. With your newly acquired healthy posture, you can therefore feel completely safe at the workstation – this is assured with our five-year guarantee.