TV wall brackets, TV stands and other accessories
For clever TV mounting
It is hard to imagine our homes without TVs. So it is all the more important that they can be easily incorporated into home interiors. With our practical and stylish TV wall brackets, your TV set blends in perfectly with any interior style. As a specialist in devices for hanging TVs, we use only the latest materials, technologies and ways of functioning. Be inspired by our innovative and unique solutions.
Wall brackets
How to hang your large TV safely on the wall
At last you have a large TV! You'll be able to identify the individual players when watching football. Or feel as if you are really there at the Ed Sheeran concert. Amazing! The only question remaining is how to mount the large screen safely to the wall and position it for the perfect viewing angle.
Our TV wall brackets are suitable for hanging TVs up to 90 inches. Safety is, of course, a top priority. Our wall brackets are therefore tested according to criteria used by recognised testing institutes.
How heavy is the TV?
First of all, it is important to know your TV size in inches. After that, you determine the VESA standard of your TV set and how much it weighs. Our wall brackets are designed to hold a maximum weight of 100 kg. Generally speaking, this is sufficient for all consumer models available on the market.
The perfect viewing distance and the optimal height
The optimal viewing distance is particularly important when installing your TV. After all, you want to watch TV comfortably, which means not having to constantly move your head back and forth, or damage your eyes because you are sitting too close to the TV set. At the same time, the further the TV is from the sofa, the more difficult it will be for you to read information or subtitles. For a 65-inch TV, we recommend a viewing distance of 3–5 metres. The optimal height varies according to the individual installation. As a rule of thumb, the centre of the TV should be at eye level when you are sitting on your couch.
However, our wall brackets offer you a good deal of flexibility here, as they can be precisely adjusted after installation.
Go to all TV wall brackets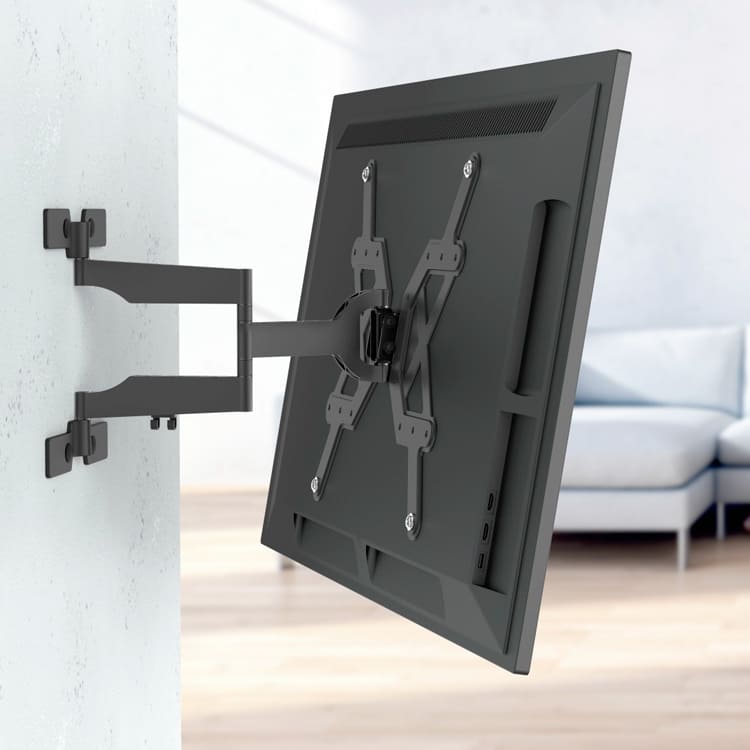 Hama wall brackets
Summary of the most important benefits
Our wall brackets are extra flat to enable close mounting to the wall. For the optimal viewing angle, you can swivel the wall bracket within a radius of up to 180 degrees and adjust the tilt flexibly. In addition, our brackets offer integrated cable management.
All the mounting material required for successful mounting of your wall bracket, including a Fischer wall anchor, is included. In addition, you benefit from a 10-year guarantee for your TV wall bracket.
TV stands
Are you looking for a no-drill solution and full flexibility?
Besides clever wall bracket solutions, we offer a large number of flexible TV stands. They leave no wish unfulfilled, as no drilling is required and they can be positioned, and repositioned, exactly where you want. Whether you place your TV on a TV table in the traditional way, or display it perfectly on our floor stand. We have two models in the range with a very appealing design. They are very well suited to modern, open living spaces. Our strength lies in special solutions such as these.
Go to all TV stands
Space-saving, individual and modern
Thanks to their slim design, our floor and table-top stands and also our TV bases take up little space. Many new TVs come with feet that are too widely spaced to fit on old TV furniture. With a base from Hama, your new TV can be placed on your existing TV furniture. And if you like to rearrange your home on a regular basis, then you can easily reposition the floor stand with the TV mounted on it.
Through use of latest technologies, materials and ways of functioning, and through continuous development of our products, we offer modern TV stands for every living space.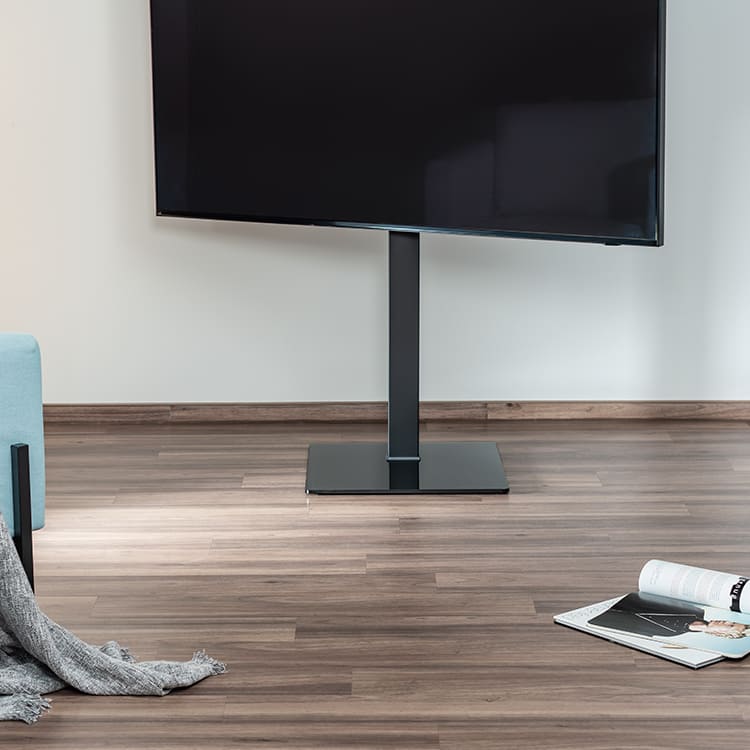 Wall brackets for public areas
Maximum safety and customer satisfaction
The first impression counts. Therefore, professional image videos and informative product videos are essential for every company. These videos are presented mainly in the company entrance area or in meeting rooms. Suitable wall brackets are required.
It's important to note: In publicly accessible buildings, particular attention must be paid to safety. We therefore offer wall brackets that have been tested for use in public areas, for example, in hotels or conference rooms, according to criteria used by recognised testing institutes. The wall brackets underwent comprehensive load, stability and functionality tests. And it's not just quality: The design also impresses, all along the line. The modern brackets are suited to every environment.
Maximum safety and perfect showcasing are therefore guaranteed!
Go to all TV wall brackets