Mini tripod:
the small piece of equipment that helps you tell stories on social media and enthral your audience
The barista at your favourite café is an artist. Yesterday he adorned your cappuccino with a swan; today he conjured up a unicorn on your frothed milk. You simply must share this with your followers!
You always have your smartphone with you and it takes brilliant photos. For the perfect Instagram story, you do however need two or three attempts. Your arm becomes heavy and your fingers begin to shake – this is where the 'Solid II' tabletop tripod can help. Camera shake is eliminated – no more blurry photos and videos.
This is how it's done:
creative professional photos with your smartphone
To take professional pictures, you need a single-lens reflex camera, right? That was in the past! Our smartphone tripod makes it really easy to record videos and take photos. The 'Solid II' converts from a stable tripod to a handy selfie stick in an instant. Thanks to the ball head, the height, angle and image area can be flexibly set. Be creative and discover the world from a new perspective with our tripod!
The extendable spring clamp holder will securely hold any phone with a width from 5.9 to 9.0 cm. You can record your make-up tutorials for YouTube in horizontal format, and take pictures for Snapchat, Instagram and TikTok in vertical format – the mini tripod is capable of both. And thanks to the universal 1/4-inch thread, the 'Solid II' can also support a single-lens reflex camera.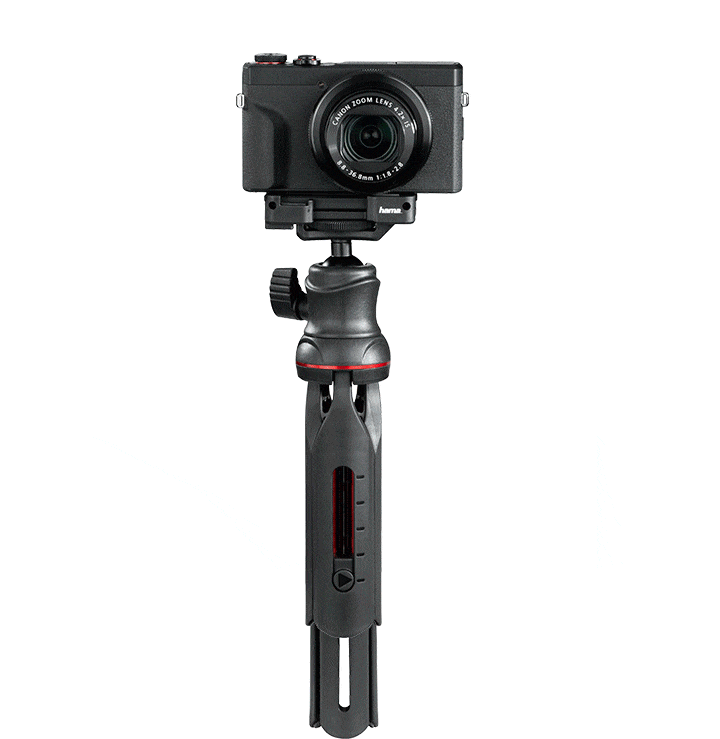 Perfectly equipped for YouTube, Snapchat, etc.
Whether used indoors or outdoors, 'Solid II' ensures you make a good impression. As an online coach, you give fitness instruction to your followers on your fitness blog. 20 minutes into a power workout, you're still in top form, but the cameraman's fingers are shaking? Then it's time for our tripod to take his place. No more blurry video!
The smartphone tripod is also ideal for food bloggers: With the 'Solid II', your phone is securely held in the smartphone holder when you're cooking live. You no longer need to use an unstable stack of books to film your meals from above. And you can be sure your camera won't fall into your sauce. The individually adjustable tripod legs pull out in four different positions, and lock in place at the press of a button. The tripod stands securely on its stable rubber feet, even on a slippery surface.
Remote release via Bluetooth:
group photos at the press of a button
Do you still program your phone with the self-timer function, and then run over to your friends to be included in the picture? Totally exasperating, isn't it? 'Solid II' therefore has a Bluetooth remote release. The small device connects directly to your smartphone and has a range of up to 10 m. The camera thus captures a large image field, and you use the convenient remote release to trigger the camera at precisely the right moment.
The 'Solid II' is the perfect photographic assistant for influencers, travel photographers and camera professionals. It can be used as a tripod or selfie stick depending on subject, and awakens a passion for creative pictures and exciting videos in every amateur photographer.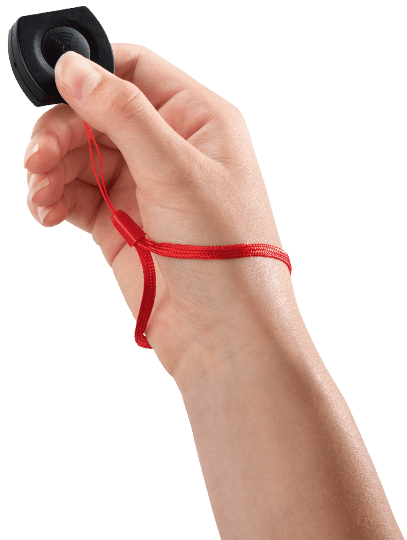 Small but tough
The 'Solid II' is the perfect companion. The smartphone holder is double folding for space-saving and safe transport. Thanks to robust workmanship and high-quality screw connections, our video tripod is extremely durable. If you're in a hurry, you can fold up the travel tripod with a simple movement. It measures 18 cm and weighs 270 g.
Time to pack up? The 'Solid II' can withstand all manner of harsh treatment. The rubber coating on the holder and thread protects your smartphone from scratches when things get rough.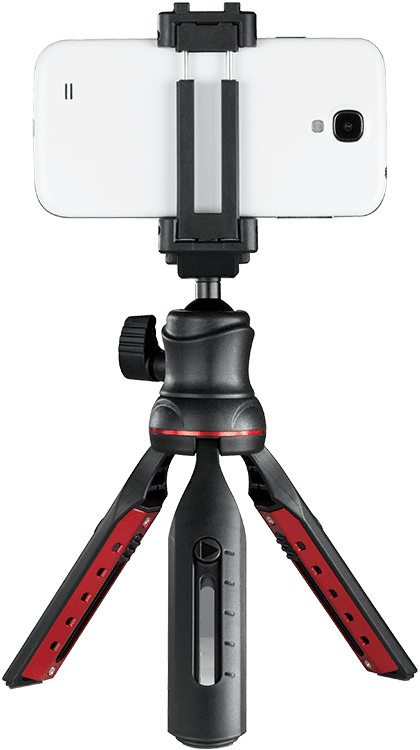 Cold shoe for more equipment
The accessory shoe makes your shots even more professional. Too dark? Simply attach an LED light and your pictures will always be correctly exposed. Sound too quiet? If so, mount a microphone on the cold shoe. This will quickly turn you into a professional, if you're not one already.