2-in-1 smartphone tripod in pocket format
Whether you're using a single-lens reflex camera or a smartphone – a tripod guarantees unblurred photos. The advantage of a smartphone: You always have it with you. But what about the right tripod? You don't necessarily want to drag it along with you unless...
Of course, Hama has a tripod solution for your smartphone: Our 'Pocket' mini-tripod can be taken anywhere and is suitable for all smartphones with a width of 5–8.5 cm. The combination of tripod and selfie stick opens up completely new possibilities in smartphone photography.
The "Pocket" smartphone tripod is
a big deal in a tiny package
With our mini-tripod, your selfies show only your best side in highest image quality. Before taking a selfie with your phone's high-resolution front camera, you can check in the integrated mirror whether you've found a flattering pose. If you also use the mini-tripod function, a razor sharp image without blurry facial features is guaranteed. Of course, this also applies to all other subjects that are worth capturing when on the go with the smartphone. Individually adjustable tripod legs allow you to position your smartphone correctly even on uneven surfaces. Risk of slipping? The tripod legs are rubberised to prevent slipping. And wherever you discover the perfect subject, you can capture it anytime with your smartphone camera: The smartphone mount can be folded so that the mini-tripod has a height of only 10 cm when transported – it will even fit in your trouser pocket.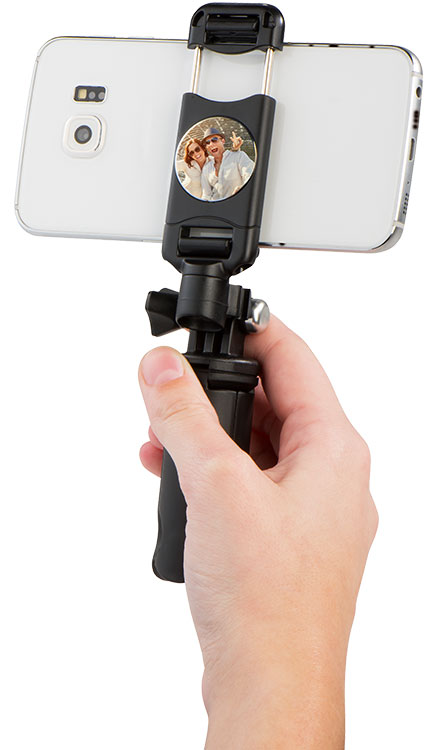 From a tripod to a selfie stick in an instant
If you need a greater range of movement, the mini-tripod also converts to a telescopic pole. It is extendable to a length of 20 cm. This enables you to capture the ideal view at a concert, take photos in hidden corners, get everyone in the picture at a family reunion, or take a unique selfie with a breath-taking panorama in the background – simply try it out yourself and open up new worlds to your photographer's eye.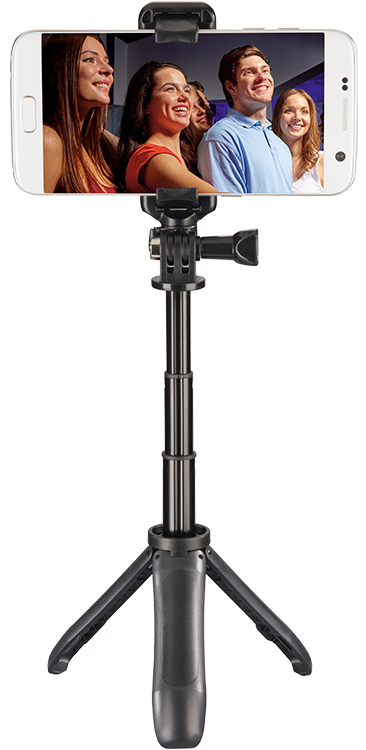 Professional smartphone photography
You don't have to forego professionalism in smartphone photography. Serious smartphone photographers already practice long-exposure photography and night-time photography (depending on the smartphone model or corresponding apps) – this only works, of course, with a smartphone tripod. If you use a smartphone remote release, completely new perspectives open up.
Whether it's a photo for your personal memories, a sensational action photo or a fascinating picture for Instagram – our 'Pocket' miracle tripod makes anything possible on the spur of the moment.