'FlexPro' tripod
Smartphone photography on a new level
Smartphones now come equipped with excellent cameras that enable professional photography. Here the conventional selfie stick no longer fulfils the requirements. A bendable tripod lets you take breathtaking photos and videos because you can be completely flexible and innovative when choosing subjects. Our 'FlexPro' smartphone tripod is the ideal companion for taking blog, leisure and travel shots on your photo and video tour. For photos that not only remain in your memory, but are brought to life.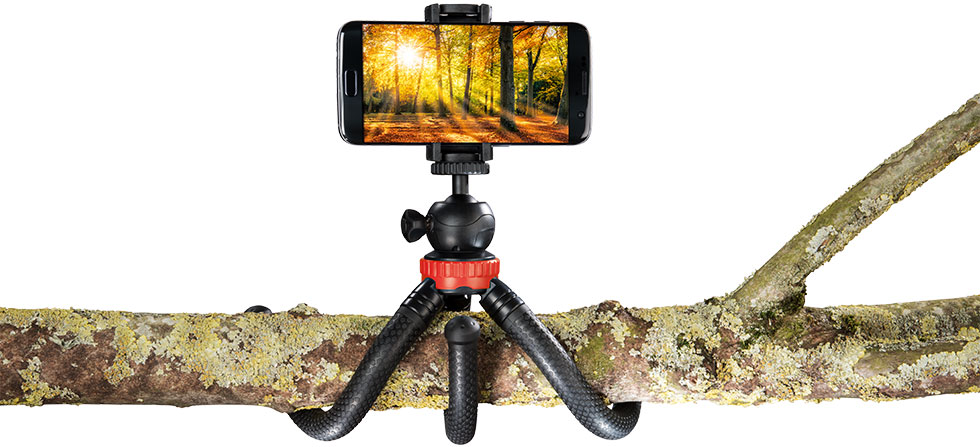 'FlexPro' – the name says it all
A camera tripod helps you get clear pictures without blur from shake – that's perfectly clear! Our flexible tripod can do more: It lets you take sensational photos from unusual perspectives and viewing angles. The flexible legs can be individually and continuously bent. This 360° bending enables original shots at unusual, adventurous locations: On the tricky and challenging mountain tour, loop the bendable tripod around a rock or the wire cable, to capture the spectacular climb and descent; experience breathtaking nature photography by wrapping the flexible tripod around a branch; capture the slide trick with the skateboard from very close proximity and attach the smartphone tripod to the railings. Rubber feet provide additional grip if it is muddy and slippery.
For less spectacular situations, the tripod legs can be combined to give a practical monopod, for example, for a selfie.
Sporty camera tripod
With professional features
The ball head allows even more professional photography, as it ensures precise alignment in vertical and in horizontal format. If you would like to be particularly experimental in bending the tripod, the rubber with the honeycomb pattern on the tripod legs provides excellent grip. The smartphone holder has foam padding, so that the device is perfectly protected from scratches.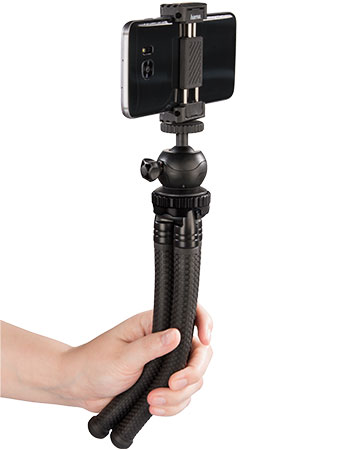 A smartphone tripod
Also for GoPro fans and the digital camera
The smartphone holder for all smartphones from 4.8 cm to 9.5 cm in horizontal format can be folded up to save space or even removed – this is particularly practical on trips and for the backpack. The removable smartphone holder clears the way for a variety of photography: The ¼-inch thread can be used to connect a digital camera. All fans of GoPro cameras also benefit: The supplied adapter can then be used to attach a GoPro camera to the tripod – for even more captivating shots in the mud, snow and water, and for many followers on Instagram.